Hammered dulcimer Medium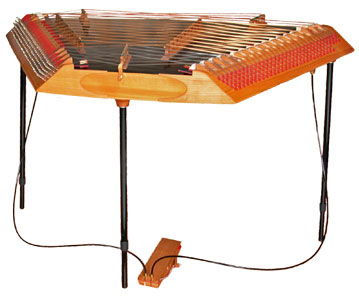 The compact music instrument with the rich, warm sound. Even with a tone range of nearly four octaves, the hammered dulcimer Medium is very practical and handy.
A special feature is the deep drone string, which can be tuned from C to E. This makes it possible to play—at least to a certain extent—in the large octave.
tone range from c0 to a3 (with drone string C tunable to E)
five-string chorus, two and three-string chorus in the bass
with treble bridge
systematic-chromatic arrangement of the tones (tuning scheme)
resonance board made of slow-growing solid spruce
pedal-operated muting system
electronic sound pickup if desired
light-weight metal legs, individually removable, freely adjustable height
instrument case with compartment for material

(114 × 56 × 15 cm

or

45 × 22 × 6 inches)

available in different kinds of wood
weight including case approximately

16 kg

(35 lbs)