Hammered dulcimer Big Traveler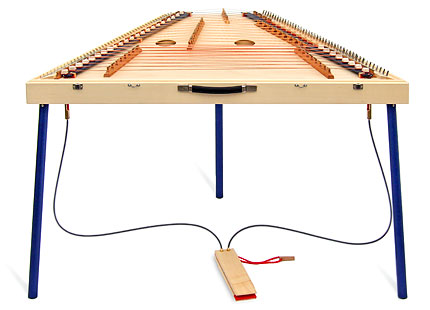 Big Traveler is a further development of the portable model Traveler. The additional large octave and the expanded resonance volume lend the Big Traveler a strong, warm and much fuller sound than the smaller model.
The instrument can be transformed into a transportable case in a few easy steps. There is room in the lid for accessories such as the legs, pedal, cables, tuning key and hammers.
The Big Traveler is the ideal and economic solution to musical development with the extended tone range.
tone range from C to a3
three-string chorus, one and two-string chorus in the bass
with treble bridge
systematic-chromatic arrangement of the tones (identical to the model Concert)
resonance board made of laminated wood
pedal-operated muting system
light-weight metal legs, individually removable, freely adjustable height
size of closed instrument: long side of trapezoid

116 cm

, short side of trapezoid

42 cm

, height of trapezoid

70 cm

, thickness

16 cm

(

46 × 28 × 6.3 inches

)
total weight approximately

17 kg

(

37 lbs

)
Upon request and for a surcharge, the instrument is available with a four-string chorus, a resonance board made of slow-growing, solid spruce, or with an electronic sound pickup.
The colors of the aluminum parts (legs, damping bars) and the resonance board can be changed if desired.
I look forward to discussing different possibilities.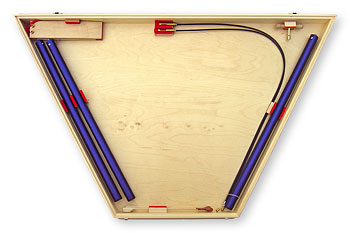 Lid with accessories